This sage simple syrup recipe is a perfect cocktail addition. The earthy herbal flavor of sage complement flavors like fresh berries orange and pineapple.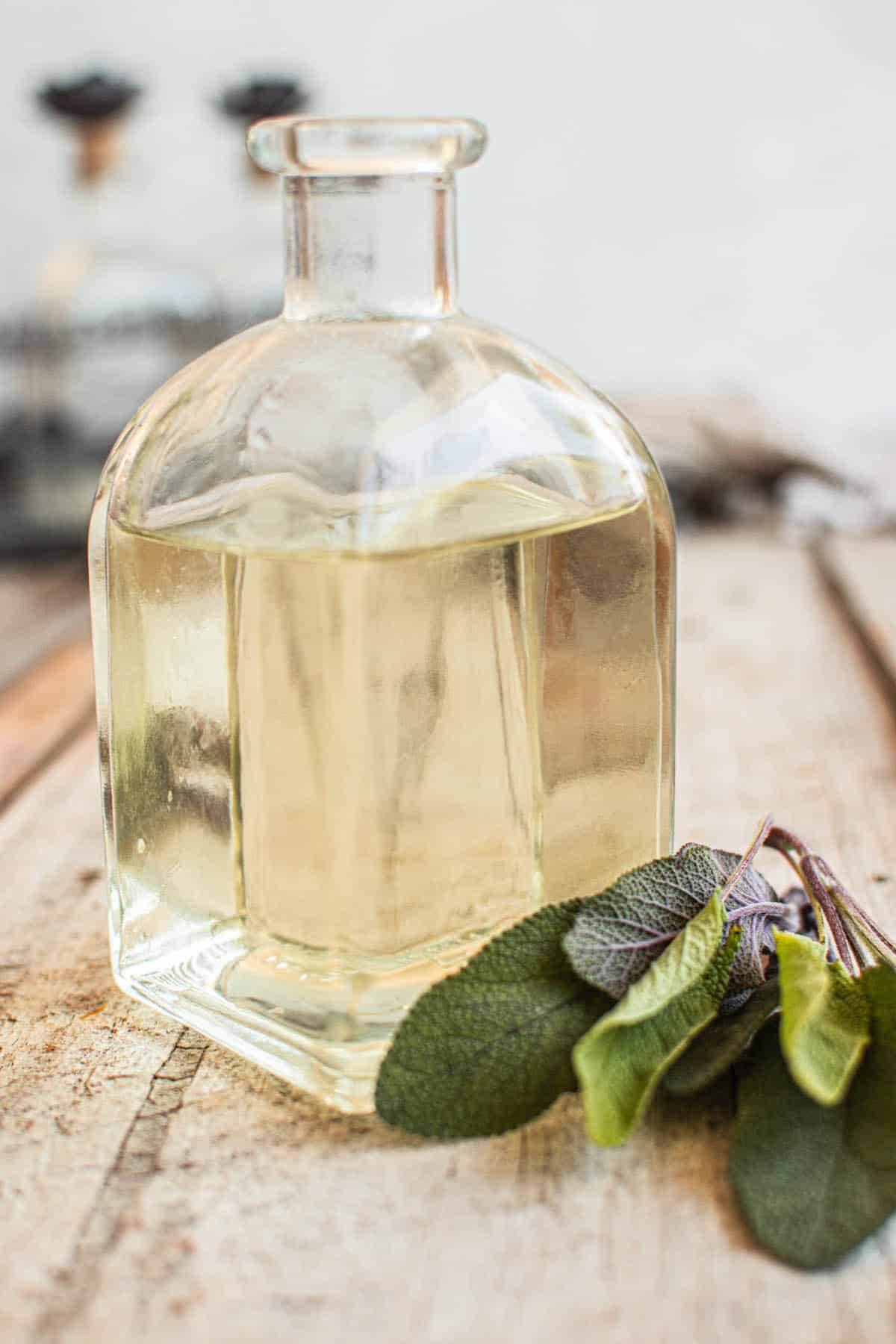 This sage syrup recipe is delicious and so easy to make. It gives a herbal spin and is a great addition to many drinks.
A flavored simple syrup like this is a great way to concentrate a taste. Sage pairs well with sweet flavors like fresh blackberries, blueberries, pineapple and citrus. It helps bring a little depth.
Jump to:
A simple syrup
A regular simple syrup is exactly what it sounds like - Simple, and it's a syrup. It's a mixture of sugar water, and in this sage-infused simple syrup there is the addition of fresh sage too.
The ratio of sugar to water in simple syrup is equal parts water and sugar.
Most often this is measured in volume - 1 cup sugar with 1 cup water. Volume is less consistent than measuring in weight (there is 40g more water than sugar in a cup), but it doesn't make much difference in a recipe like this.
Ingredients
Here is a rundown of what you will need for this herbal simple syrup.
Granulated sugar. This recipe uses white sugar. You could use brown sugar or raw sugar too but this will bring more color to the syrup and slightly change the taste.
Water.
Fresh sage leaves.
See the recipe card for quantities.
Instructions
In a small saucepan combine sugar and water and place it over medium heat. Let it come to a simmer, stirring until the sugar dissolves.
Once the sugar has dissolved, turn off the heat and add in the sage leaves. Let the sage steep for at least an hour and cool down to room temperature.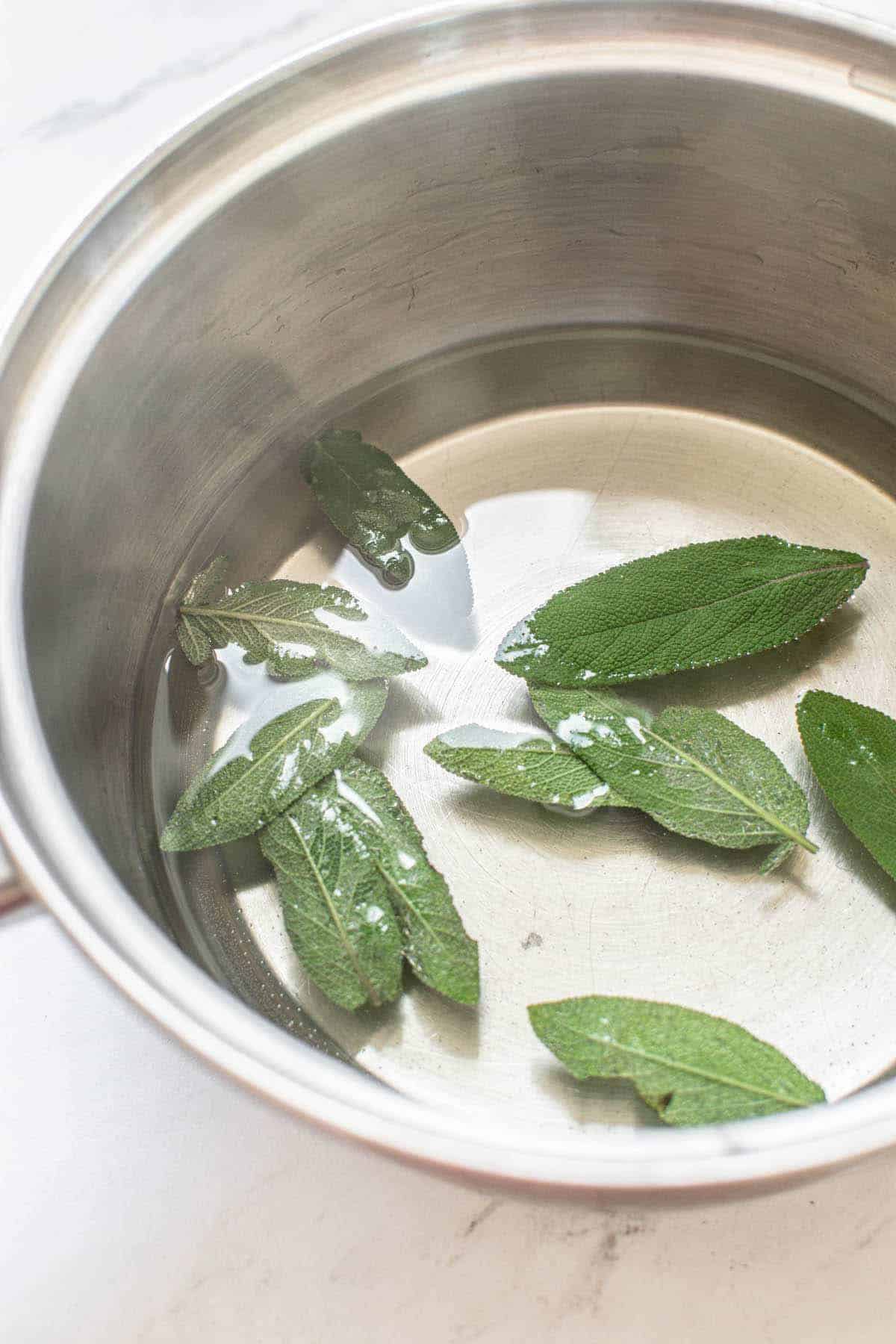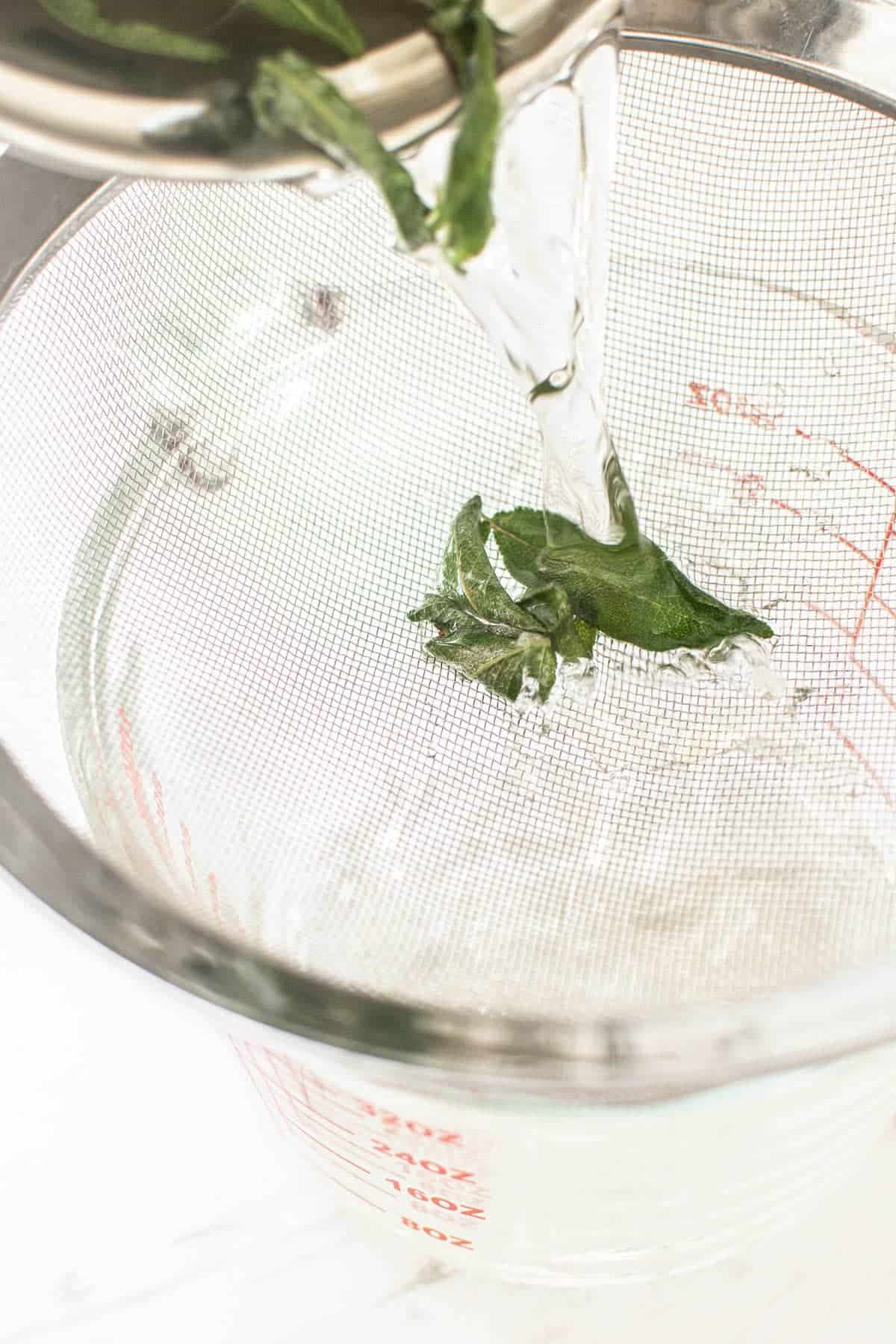 Balance a fine mesh strainer over a bowl and pour through the syrup to remove the sage. To get the syrup extra clear, next pour it through a cheesecloth of coffee filter.
Pour it into an airtight container like a mason jar.
More simple syrup recipes
Simple syrups can be made with all sorts of ingredients!
Ways to use this sage simple syrup
Add it to a sage cocktail, or any of your favorite cocktails. The added earthy sage notes are delicious to sweet cocktails.
Add to your favorite iced tea to give it a herbal twist.
Use this sweet syrup in mocktail recipes too to bring earthy sage flavor. Simply add it to club soda or lemonade.
Simple syrup can also be used to brush on cake layers to keep them moist.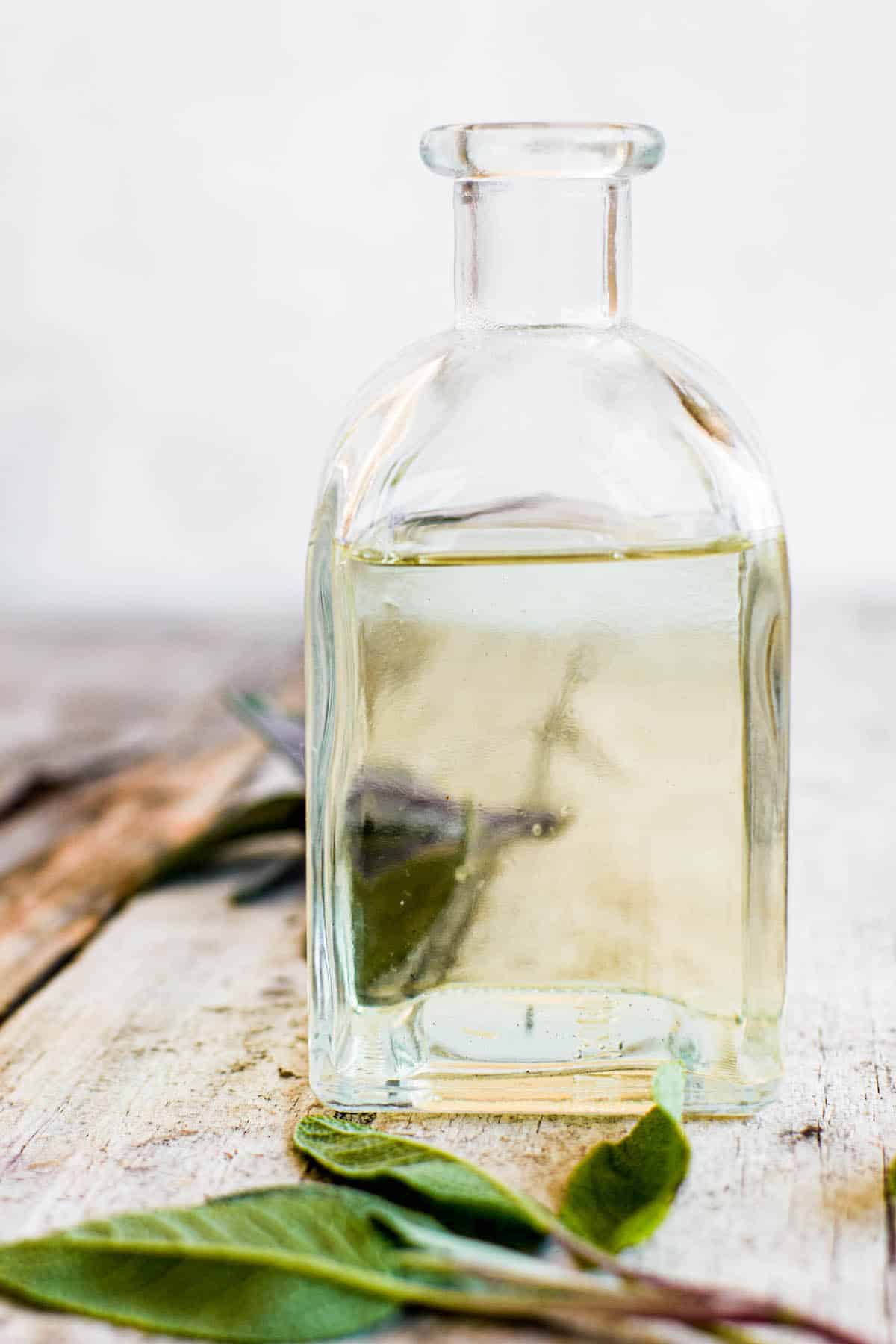 Storage
Store the simple syrup in an airtight container in the fridge for up to 2 weeks
FAQ
Can I use dried sage
Whilst you could, the taste of dried sage is quite different to fresh sage leaf. I recommend only using fresh sage.
Full recipe
Yield: ¾ cup
Sage Simple Syrup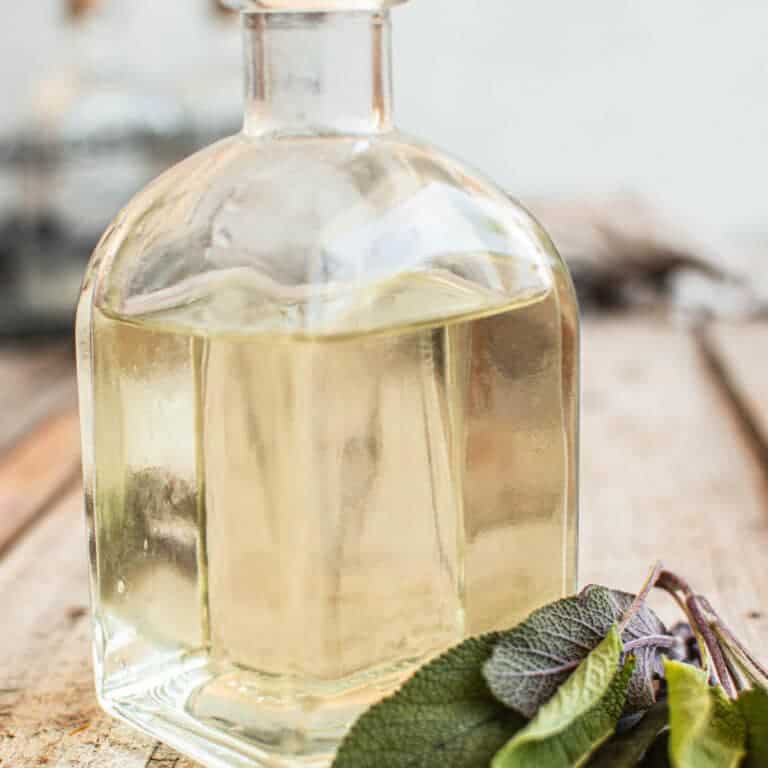 This sage simple syrup recipe is a perfect cocktail addition. The earthy herbal flavor of sage complements flavors like berries and pineapple.
Ingredients
¾ cup water
¾ cup granulated sugar
10 fresh sage leaves
Instructions
In a small saucepan combine sugar and water and place it over medium heat. Let it come to a simmer, stirring until the sugar dissolves.
Once the sugar has dissolved, turn off the heat and add in the sage leaves. Let the sage steep for at least an hour and cool down to room temperature.
Balance a fine mesh strainer over a bowl and pour through the syrup to remove the sage. To get the syrup extra clear, next pour it through a cheesecloth of coffee filter.
Let it cool down to room temperature, then pour it into an airtight container. Store the simple syrup in the fridge for up to 2 weeks
Nutrition Information:
Yield:
25
Serving Size:
1
Amount Per Serving:
Calories:

32
Total Fat:

0g
Saturated Fat:

0g
Trans Fat:

0g
Unsaturated Fat:

0g
Cholesterol:

0mg
Sodium:

1mg
Carbohydrates:

8g
Fiber:

0g
Sugar:

8g
Protein:

0g