You'll adore the Empress Gin Sour if you're a gin lover. This vibrant and refreshing drink is a delightful twist on the classic Gin Sour, with the addition of Empress 1908 Gin.
The result is a visually stunning and palate-pleasing cocktail, perfect for a special occasion.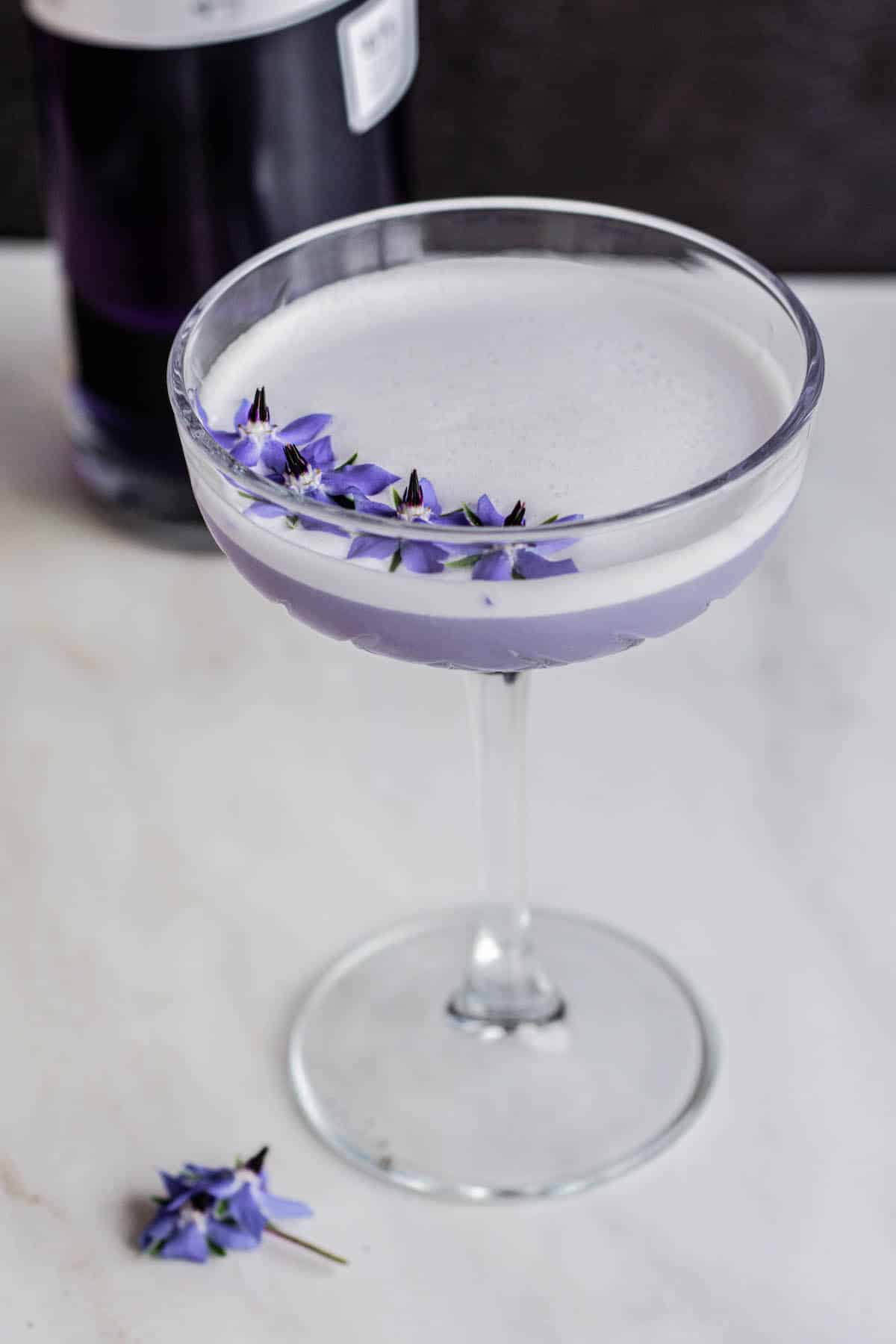 Jump to:
The Empress Gin Sour is a modern take on a timeless classic. It showcases the beauty and taste of Empress 1908 Gin. It's infused with butterfly pea blossom which gives the gin its distinctive indigo hue.
When mixed with the right ingredients, this cocktail delivers a delightful flavor and a mesmerizing color transformation. It will change color depending on the mixer, from a natural indigo hue to violet or soft pink.
For another sour, try a raspberry gin sour or elderflower gin sour!
Ingredients
Find the ingredient amounts listed in the printable recipe card at the bottom of this post. Here's a quick overview of what you need for this simple cocktail.
Empress 1908 Gin - This gin is an original gin recipe from Victoria Distillers in British Columbia. It has a unique dark indigo color from butterfly pea blossoms, providing a visually captivating element to the cocktail. Its flavor profile consists of eight organic botanicals, including juniper, coriander seed, ginger root, cinnamon bark, grapefruit peel, and rose petal. This adds floral notes and complexity to the drink.
Fresh lemon juice - Adding citrus juice makes this a sour cocktail. A lemon twist adds a fresh and tangy touch to the cocktail. Along with the simple syrup, it's the perfect balance of sweet and tart.
Simple syrup - A blend of sugar and water, simple syrup brings a touch of sweetness to the drink without overpowering the gin's botanicals.
Egg white - An optional ingredient, the raw egg white adds a velvety texture and foamy layer to the cocktail, enhancing the overall experience.
Butterfly pea, borage or lavender flowers - A simple yet elegant garnish to finish the sour cocktail. I've used borage blossoms, as they were easier to source. They also complement the beautiful lavender color of the cocktail. You could use other edible flowers of your choice too.
Method
Fill a cocktail shaker and a coupe glass with fresh ice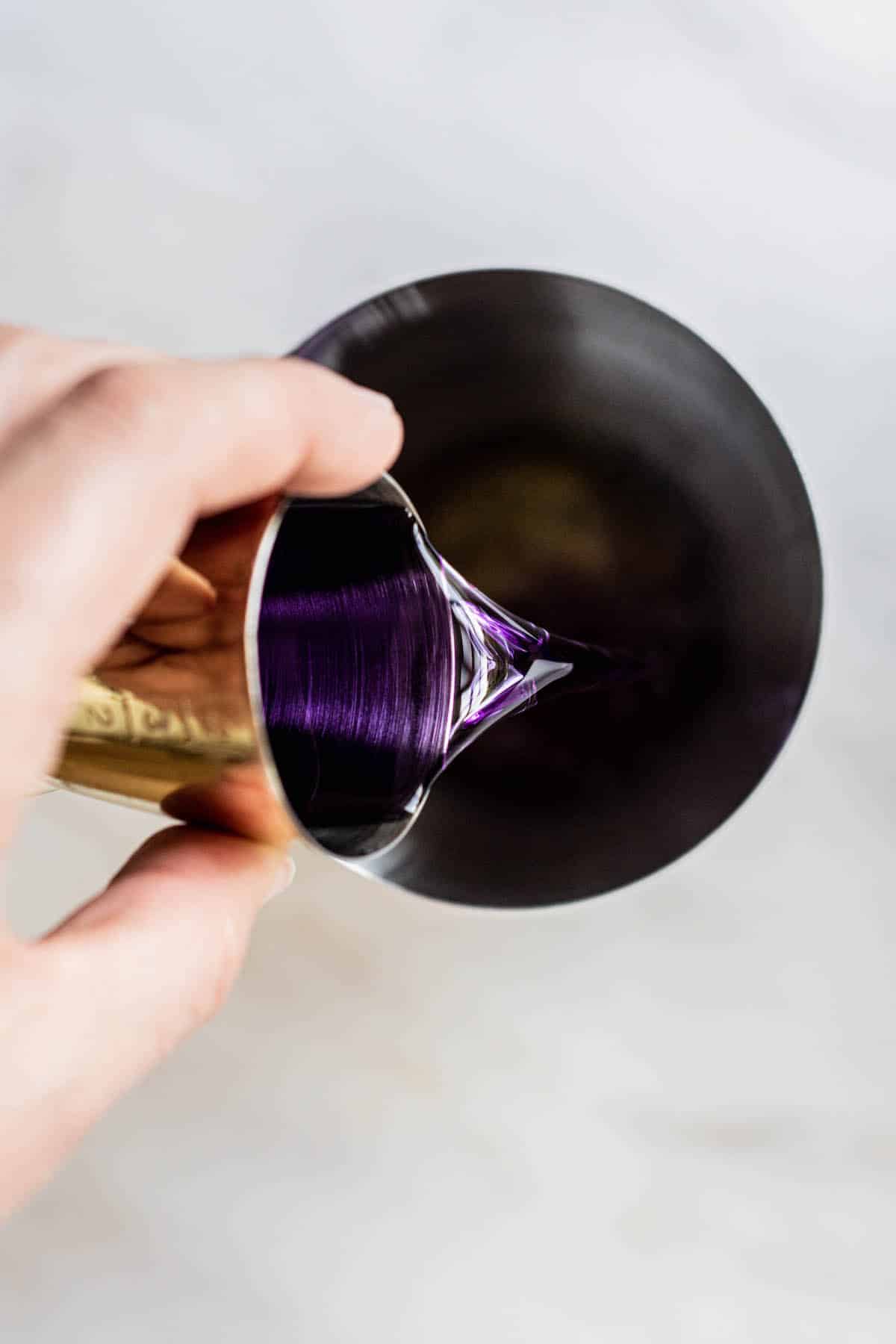 Add the Empress 1908 Gin, lemon juice, simple syrup, and egg white to the shaker.
Add on the lid and shake for 15 seconds. This is called a 'dry shake,' which better mixes in the egg white.
Add ice and shake the mixture until it is thoroughly chilled.

Tip the ice from the coupe glass, then strain the drink into the chilled cocktail glass.

Garnish with lavender or butterfly pea flowers or other festive garnishes.
Variations and substitutions:
Feel free to experiment with the Empress Gin Sour and make it your own. Here are a few ideas:
Use a flavored simple syrup, such as sage syrup or rosemary syrup, for a subtle hint of additional flavor. Or add in a sprig of rosemary or fresh mint leaves
Add a few dashes of lemon bitters to enhance the complexity of the cocktail.
Replace the lemon juice with fresh lime juice for a different citrus note.
For a vegan alternative, substitute the egg white with aquafaba, the liquid from a can of chickpeas.
Equipment needed:
To make an Empress Gin Sour, you'll need a few essential pieces of equipment:
Cocktail shaker: A shaker for mixing the ingredients and chilling the drink.
Strainer: A strainer to remove ice or pulp from the mixture before pouring it into your glass.
Coupe or rocks glass: A coupe glass or rocks glass is ideal for this cocktail, showcasing the beautiful color.
Indulge in the sophisticated taste and captivating color of the Empress Gin Sour, and elevate your cocktail-making skills to new heights. Cheers!
More Cocktails To Try
Full recipe
Yield: 1
Empress Gin Sour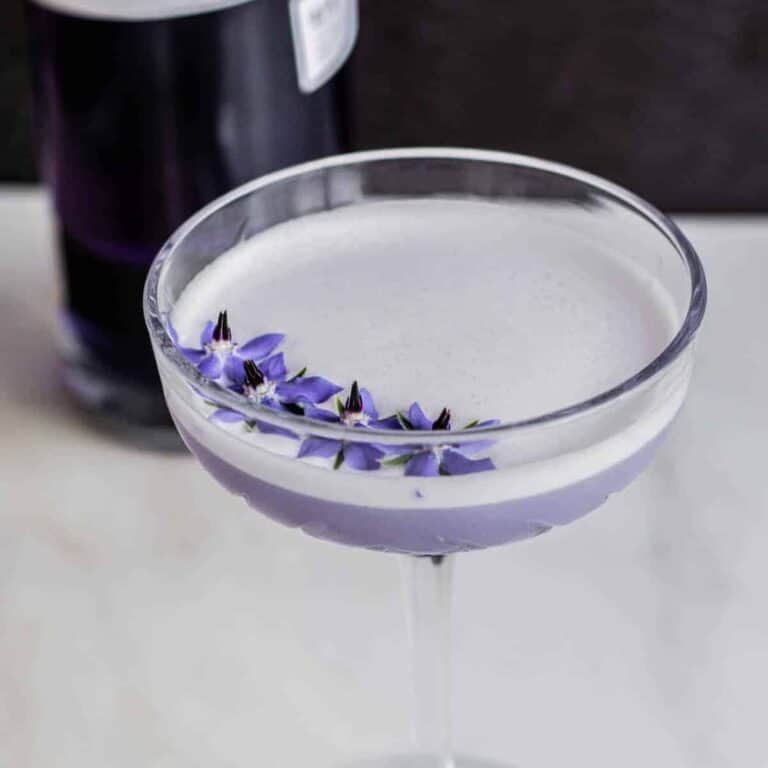 This empress gin sour is a visually stunning and palate-pleasing cocktail, perfect for a special occasion.
Ingredients
2oz / 60ml Empress 1908 Gin
1 oz / 30ml Simple Syrup
1oz / 30ml Fresh Lemon Juice
½ oz egg white
Ice
Garnish
2-3 drops of bitters (optional)
Edible flowers to garnish
Instructions
Fill a cocktail shaker and a coupe glass with fresh ice
Add the Empress 1908 Gin, lemon juice, simple syrup, and egg white to the shaker. Add on the lid and shake for 15 seconds. This is called a 'dry shake,' which better mixes in the egg white.
Add ice and shake the mixture until it is thoroughly chilled.
Tip the ice from the coupe glass, then strain the drink into the chilled cocktail glass.
Garnish with flowers or other festive garnishes and bitters (if using.)
Nutrition Information:
Yield:
1
Serving Size:
1
Amount Per Serving:
Calories:

193
Total Fat:

0g
Saturated Fat:

0g
Trans Fat:

0g
Unsaturated Fat:

0g
Cholesterol:

0mg
Sodium:

25mg
Carbohydrates:

15g
Fiber:

0g
Sugar:

14g
Protein:

2g